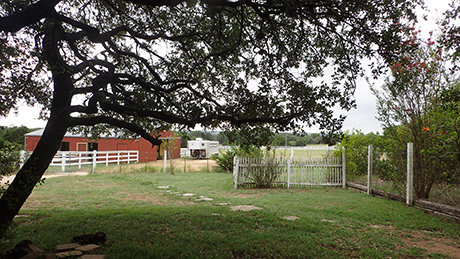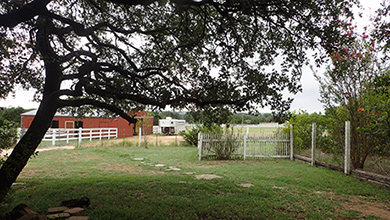 Contact Information
231 Prochnow Road
Dripping Springs, TX 78620
512 825-9076
David: 512 971-3905
Cedar Grove Stables
We are opening a horse motel on our property soon. We will offer:
Four 12x12' stalls with two attached lighted 24x36' paddocks
One-acre turnout pasture/arena lighted for night riding
Electric hookups 20, 30 and 50 amps. There are 3 hookups, possible to accommodate up to 5 rigs
Coffee and drinks, optional breakfast
Use of small refrigerator and crib, if needed
Pull-through trailer parking in pasture
Horse Motel Pricing
Horse boarding - $20 per horse, includes 1 bag of shavings
20 and 30 amp hookups for horse trailers, $25 per night
RV hookups for RVs, $40 per night
Dry camping (no electric) for horse trailers: $15 per night
Nearby
Bed and Breakfasts (2 on Prochnow)
Three miles off Hwy 290W
25 miles SW of Austin
17 miles from Pedernales & Reimers
7 miles from DS Ranch Park
5 miles from downtown Dripping Springs
15 miles from Wimberley
Directions & More
If heading south on 281, do not take Hamilton Pool Road toward Austin, take only 290E. It is not passable with a trailer over 30 feet long.
Driving directions from Austin on Hwy 290W:
Head south on Mopac (Loop 1) following the signs to Johnson City.
Mopac will end at the Y in Oak Hill and feed into Hwy 290W. This is also the intersection of Hwy 71. From the Y, go 13 miles to Dripping Springs, passing through Cedar Valley.
Continue straight through the traffic light at RR12 about a mile, passing the Baptist Church on the left. Turn left on Creek Road. Pioneer Bank is on the corner.
Cross a one-lane bridge over Onion Creek.
When you come to a fork in the road, go left. The other side crosses Onion Creek again. Do not cross it again.
The road has now changed names, although it looks like the same road. It is now Mt. Gainor.
Go 2.2 more miles. About one mile from your next turn, you will see a large cellular tower on the right. The tower is across the street from our driveway, so it is a good landmark at night.
Turn right on Prochnow Road (aka CR 195) on some maps.
It is the third house on the left. You can't see the house from the road, but the name is on the mailbox.
Once in the driveway, go right to come to the house. Go left to go to the barn.
Trucks with trailers need to turn around in the pasture and must go through the pasture gate.
Shut the barn gate behind you, and be careful not to let the horses escape. The front gate to the property can stay open.
Driving directions from San Marcos on RR 12:
From San Marcos, take RR 12 heading north 9.4 miles.
Turn left on Gatlin Creek Road . This entrance is right after the road widens in front of the Storm Ranch. There will be a house on the corner with metal silhouettes of animals and cowboys in the yard. Take road 4.5 miles until it ends (at the back entrance to Storm Ranch).
Turn right on Mt. Gaynor and take it down the hill until it ends (276 feet).
Turn right on Mt. Gainor and go 1 mile.
Turn left on Prochnow Road. You will be able to see our red barn (on left) and the cellular tower.
We are the third house on the left (231 Prochnow).
From San Antonio or Johnson City on Hwy 281 to Hwy 290E:
Google Maps will give you a shorter route, but it has more steps. This is the easiest method.
These directions assume one is traveling north toward Marble Falls on Hwy 281.
Take Hwy 290 toward Dripping Springs about 20 miles.
You will pass a large Valero station on the right.
Turn right on Roger Hanks Parkway, the next street. There is a large metal entrance sign spanning the road and planter in median.
Continue down Roger Hanks Parkway until it merges with Creek Road. Stay straight.
Cross Onion Creek on the one lane bridge and follow the directions from Austin above.
*If you miss either Roger Hanks Parkway (from San Antonio) or Creek Road (from Austin), continue on Hwy 290 and take the other street.
This page was last modified on: .